THIS WEEK'S ACTIVITIES: Pew Sheet 17-06
_____________________________________________________________
MID-WEEK EUCHARIST: Every Wednesday at 19:30 unless otherwise advised. (PLEASE NOTE no Eucharist 20 June)
LET THERE BE LIGHT: We are hoping to raise €10,000 to upgrade the lighting inside the church. We have already received almost 3,570 euro in donations and pledges. If you would like to donate towards the project, above and beyond your usual giving (NOT instead of), you can do so by bonifico, cash or cheque donations (made out to All Saints' Anglican Church Milan). Please speak to Orla or one of the Churchwardens, Daniella or Ewan. If making a bonifico please specify: Donation LTBL. [Please note that if we are unable to reach the target amount, the project may not go forward and your donation then would be returned if you so wish].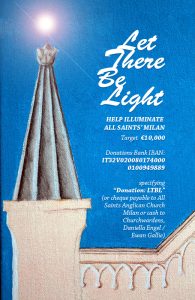 SUMMER BBQ – A BIG thank you to everyone who contributed to making this such a great success on Saturday. We had wonderful food, lots of participants, sunshine and a great atmosphere. A truly super community event! And thank you to Jasmine and Joel of Cerveza para todos for entertaining us at the end of the day. See you all in September!
CORSI DI ITALIANO A2: a gennaio ricomincia in Via Olivetani 4 (MM2 Sant'Ambrogio). Chi fosse interessato contatti Maria Grazia 345 4138382.
BIBLE STUDY: Every Tuesday from 12.15. NO BIBLE STUDY ON TUESDAY 9 JANUARY. Study of the Book of Genesis. All are welcome even if you've never been before. We meet to share our packed lunches and then discussion follows from 13-14.00.
CHOIR PRACTICE: Church choir on Fridays at 19.30 (barring transport strikes). New members very welcome. Please contact Darlene on 328 5640829.
Gospel Choir on Wednesdays at 20:30.